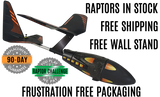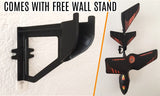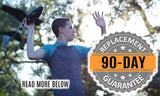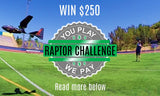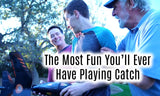 Master the Raptor Challenge and Win $250
Take your Raptor Football to your local football field with the yards mark visible, stand in the end zone at the goal line and get a buddy to film your longest throw. Of course we require an uninterrupted shot from beginning to end to make sure no trickery is at hand. Upload your throw to YouTube or Facebook and email us a link of your exemplary demonstration of skill and power. The longest uninterrupted throw each month wins $250 - it's really that simple!  And to show how simple it is, I took the Raptor Challenge myself! 
Raptor Challenge of My Own 100 Yard Throw, See Below
VIDEO 6 GOES HERE

It took over 4 years and 500 prototypes to perfect the Raptor Football.  Now, it can soar over 100 yards and do it crash after crash.  The Raptor Football is an engineering masterpiece combining state-of-the-art technology with quality materials.  And to top it off, it just looks darn cool!
Repeatable Performance Throw After Throw from the 7075-T6 Aluminum Alloy Frame Shaft
7075-T6 is often referred to as the "Strongest Aluminum" grade normally reserved for the aerospace industry.  7075 aluminum alloy's composition roughly includes 6% zinc, 2.3% magnesium, 1.4% copper.  T6 is the temper, which stands for the heat treatment process that keeps the tubes at 450° Celsius for several hours, then are quenched, and finally aged at 120° Celsius for 24 hours.  Yeah, that much work goes into just the aluminum tubes!  What does this mean for you? Said simply, the frame is super strong so it won't break and it keeps all the parts in alignment such that each throw has the same performance over and over.
Increased In-Flight Stability from the Polycarbonate Wing Bracket
Mounting the wings up high dramatically increases the inherent stability during flight.  However, this creates crazy high impact loads that get transferred through the wing bracket.  To prevent wing bracket failure, we use polycarbonate because it is one of the strongest polymers in resisting impacts as it is the same polymer used to make bullet proof windows.  Polycarbonate is expensive, but only the best would do for the Raptor Football so it lasts crash after crash.
Increased Durability from the 40% Glass-Filled Polycarbonate Reinforcing Insert
One part you will never see is the insert hidden deep inside the aluminum tube that is designed and positioned to reinforce the frame under the worst of crashes.  We use polycarbonate mixed with glass fibers to increase its stiffness.  Durability of the Raptor Football is unparalled.
Safety, Comfort and Durability all from the XL Extralight® Front Foam
The front foam has to be light, resilient and take one heck of a beating.  We worked with Foam Creations to create a custom blend using the proprietary XL Extralight® foam process to make the best darn front end we could.  It is amazing how many times you can crash over and over and the foam holds up each time.
Impact Resistance Designed with the ABS Deformable Wing and Tail
Our wing and tails are made from ABS polymer because it is a great tradeoff between strength and weight.  Also, our aerospace engineers created a novel thin-form wing design that can deform upon impact to increase durability, but then remain rigid in flight.  There isn't a wing like this in the market today.
Ease of Learning Enhanced by the Rotatable Throwing Mechanism
Our videos make it look easy but don't be fooled, the Raptor Football does take some time to learn as this is not a throwing aid for the uncoordinated.  Therefore, to aid in perfect flights each time, we incorporated a torque-cancelling rotatable throwing mechanism to reduce the learning curve and get you flying well as soon as possible.
One Size Fits All Due to the Adjustable Horizontal Tail
Different people will throw the Raptor Football differently and different distances need to be adjusted accordingly.  So we included a thumb screw controlling the pitch of the tail allowing you to tailor the Raptor Football's flight characteristics in the field without the need for tools.  So no matter your age, from 12 to 60, you can tailor the Raptor Football to your throwing ability.  
CART FORM GOES HERE

The Raptor Football is NOT a throwing aid.  While we make throwing the Raptor Football back and forth look easy, it will take time and skill to learn how to throw and catch so watch our Assembly and Throwing Instructions Video before you hit the field.  Some will get the hang of it real quick, but others might take much longer.  The Raptor Football will challenge your skills, but once mastered it is the farthest flying football ever!  Do you have what it takes the Master the Raptor?
The Raptor Football is NOT Sold Elsewhere!
The Raptor Football is designed, patented and sold exclusively by Mad Fly Sports. So to help you become one of the lucky few to own the World's First Flying Football, we're making the Raptor Football more affordable than ever with this exclusive Introductory Offer.

Raptor Football - Just $59 (Limited Time Offer)
CART FORM GOES HERE
- Over 6,000 Facebook page likes and counting -
- Experience True Flight with the World's First Flying Football -
- The Most Technologically Advanced Football Ever Designed -
- Save $40 Instantly When Ordering Today -
- Free Shipping Ends Soon ($16 Value) -
- 90-Day Replacement Part Guarantee -
Time is Running Out on this Introductory Offer.  Claim Your $65 in Savings and Free Gifts When You Order the World's First Flying Football Today!
Raptor Football - Just $59 (Limited Time Offer)
CART FORM GOES HERE

The Raptor Football is fun for the whole family!
VIDEO 1 GOES HERE
17 Crashes and Still Flies Perfect, Watch Below 
VIDEO 5 GOES HERE
Take a Sneak Peak Inside Our Shop!
VIDEO 4 GOES HERE
Time for some humor...
VIDEO 2 GOES HERE
CART FORM GOES HERE
Have any questions or want to get a hold of us?  Enter your message below to contact us.  If you want us to respond, include your email so we can write back.  Thank you.